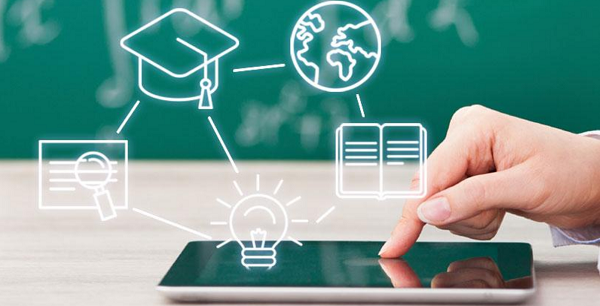 2021-07-26
admin
#school website #college website
Schools and College Educational Website Designing Company Coimbatore
Hi Fellas, Our firm Veenet Technological Service, Incepted in the year of 2010. Since day one, Client satisfaction is our ultimate goal. On working with more than 1000 clients we came across clients with various mindset, some come up with precise thinking and outline of how they wanted their brand logo.
Almost all of our clients don't come up with outlines, they just expect their logo to be unique, creative and should represent their business or brand name. On the other hand, they are limited to a certain budget.
On understanding the above requirements and to make the process smooth. We came up with an idea of working on a package basis that includes Logo design, business card design, and other stationery designs like letterhead, letter cover, caution stickers etc. This method helped us to march towards our milestone of being one of the Best Logo Design Company in Coimbatore.
Veenet's graphics design team has experience in designing 5000 plus logos during the business span of more than 10 years. We are so proud to call ourselves with the tagline of best creative logo design in Tirupur. The logo gives identity to your brand and business, Designing a logo with the best logo design company in Coimbatore is the choice you make with us fulfills your complete requirement.
Veenet Technological Service, Being a titleholder of creative logo design in Tirupur. Our expert logo design team handles the following process to provide the best logo design service to our clients who require Logo design in Tirupur and Coimbatore.
Veenet's Process of Creative Logo design
1. Hear The Story -
Let the client speak more about his expectations. Ask him more about his nature of business, targeted clients. geological location, his interest and taste in colours, his inspired brand, logo shapes, etc., These details help our designer team to analyse the exact requirement of the client.
2. Form a Story -
Fabricate a Story explaining the brand name or Business model and their Goal, Either real or imaginary but need to be interesting and convincing.
3. Think for inspiration -
Search and look into all aspects of surroundings like the origin of business, their end product, process, their customer feelings, products nature, location, materials, peoples, Books, gallery, internet etc find a piece of material or hint to get inspired.
4. Be creative -
Be creative with your thoughts, put effort to represent those on paper.
5. Match to the Client Requirements -
Organize and represent the rough sketch to meet client requirements.
6. Check with trademark clashes on logo -
Once the shape is finalized, check with Trademark Ip search Availability, such that in future there won't be any conflict with other brand names and logos. it helps the client to trademark register their logo in the near future.
7. Showcase to client -
Showcase your best creative logo design to the client through the simplest understandable process.
8. Obtain Feedback -
Obtain valuable feedback from the client, and update the logo design accordingly, This crucial process, helped us on being the best creative logo design in Tirupur.
9. Finalize the concept -
Once the design idea is approved, finalize the concept, and work in detail to attain the maximum possible creative outcome of the logo.
10. Simplify into Print medium friendly -
Designing a complicated logo will make the logo look clumsy on taking to the printing medium. Though the logo is complicated, try to have the simplest version on hand to use in bill books, Packing boxes, billboards & branding mediums. Most of the clients will not be aware of this part, as being the Best Logo Design Company in Coimbatore, it is our responsibility to educate the client.
11. Show Lively representation of logo using Mockup -
Showcase the client using various real-time appearance using available mockups like desktop screen, stationeries, letterhead, business card, coffee cup, caps, mobile wallpaper, clips, building elevations, posters, light boards, Car stickers, push-pull stickers, etc.
12. Fine-tuning of the Final logo -
Once all the process has been completed, do one last fine-tuning, Delete unwanted layers, fonts, images used during the design process of the logo. Then Seal or lock the layer, Surrender to the client in all possible available formats like Corel draw or adobe illustrator or photoshop format in whichever tool the logo was designed.
13. Submit source file -
For the convenience of the client provide them font name, CMYK colour code and the logo in jpeg, png & pdf formats. Also provide them Various sizes of the logo as follows stamp size, Passport size, Business card size, Superzoom size for flex printing, Square, Rectangle etc. such that they can be used in various social media platforms like Instagram, Facebook, blog etc.,
14. Let's Start -
Interested to work with Best Logo Designing Company in Coimbatore & creative logo design in Tirupur,
Reach us via text or call 9976997111 / 9500746189 ( both numbers are on Whatsapp).
info@veenet.in visit us at www.veenet.in